West Sussex boy, 10, in maths A-level success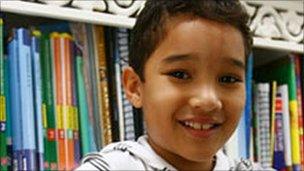 A 10-year-old boy from West Sussex has gained an A grade in his maths A-level.
Xavier Gordon-Brown, from Haywards Heath, who knew his times tables before the age of four, studied at Ryde Teaching in Bushey, Hertfordshire.
The gifted youngster's latest exam success comes just 12 months after he achieved an A* GCSE in the subject.
Xavier also plays plays the violin, clarinet and piano, speaks three languages, including Latin, and enjoys football, street dancing and Taekwondo.
His mother Erica Gordon-Brown said: "Xavier has always been a bright boy and can recite and memorise 2,000 digits of Pi.
"He loves classical and urban dance music, while being able to play three instruments - the piano, clarinet and violin."
Dr Mike Ryde, principal of Ryde Teaching, said: "We are very proud of Xavier and what he has achieved by making history with his results.
"He has worked very hard for his A-level and his GCSE last year and this once again proves what children can achieve at a younger age, when given the opportunity."
Xavier's brother, now 19, and sister, now 16, also took their maths A-level before the age of 11.
They both won scholarships to prestigious private schools Winchester College and Roedean.
Related Internet Links
The BBC is not responsible for the content of external sites.