Sussex and Surrey doctors research African healthcare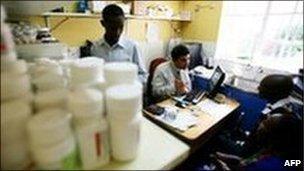 Two doctors have set off on a year-long cycle ride across Africa to raise awareness of health needs in Kenya.
Dr Reza Noori, from Brighton's Royal Sussex County Hospital, and Dr Hannah Welstead, from St Peter's Hospital, Chertsey, set off on Saturday.
The pair will visit remote areas and raise funds for Kenya's healthcare.
They said Africa had almost 25% of the world's diseases, including HIV/AIDS, tuberculosis and malaria, but access to only 3% of the world's health workers.
And they said Africa had less than 1% of the world's financial resources for health.
Dr Noori said: "Cycling across the African continent will give us unique access to remote areas and a close-up perspective on the reality of life in the countries crossed.
"We hope to raise money to donate towards sustaining and improving a medical college, and improve local health care clinics and hygiene programmes in rural Kenya."
They said their trip would take them through Sudan, Ethiopia, Kenya, Tanzania, Mozambique and South Africa.
During their visit, they will be interviewing patients and doctors to gain first-hand accounts of healthcare in Africa and visiting medical schools and training facilities.
Related Internet Links
The BBC is not responsible for the content of external sites.