Eurostar managers refuse to clear trains from stations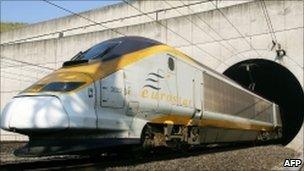 Eurostar train managers have voted to refuse to clear trains to leave stations, it has been announced.
The Rail Maritime and Transport Union (RMT) said its members would refuse to carry out "train-dispatch duties" from next month.
It said the task, which was currently carried out by platform staff, was being imposed on train managers as a "cost-cutting" measure.
Eurostar said the process was commonly used in France.
Bob Crow, RMT general secretary, said: "Eurostar failed to guarantee that it will not impose self-dispatch, either at Paris or elsewhere on the Eurostar network.
"Our members have delivered their decisive verdict and the union has instructed them not to carry out self-dispatch duties."
He added: "The company tried to hoodwink our members by claiming falsely that their French colleagues had already agreed to self-dispatch, and that is no way to try to conduct industrial relations.
"This a purely cost-cutting exercise that would load additional safety-critical responsibilities on to train managers and we will not stand by and watch the levelling-down of standards."
A Eurostar spokesman said: "We are aware of today's vote in favour of action which falls short of a strike.
"Eurostar has robust contingency arrangements in place and currently we are confident that there will be no disruption to our services or our customers.
"This new process is commonly used in France and is a normal part of the safety duty for our French team.
"Ahead of the planned action we will continue to seek to reach an agreement with the RMT."
Related Internet Links
The BBC is not responsible for the content of external sites.