New seams boost UK Coal recovery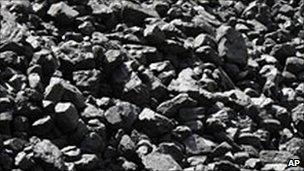 Coal production has soared at two of the UK's biggest collieries after new seams began operating.
UK Coal said half-year volumes at Kellingley, on the border of North and West Yorkshire, were twice those seen a year earlier after recent investment.
Output at Thoresby in Nottinghamshire was up 50%, the company reported.
Chairman David Jones said: "With the transition completed, production in the second quarter rose sharply and is now living up to our expectations."
However, production was lower in the first quarter of the year as work was undertaken to bring the new seams into operation.
That meant the Doncaster-based company's interim losses grew to £93.2m from £81.5m a year earlier.
As well as supplying 15% of all the coal burned in the UK, the company is one of the UK's largest brownfield site property developers.
UK Coal estimates that the value of its estate, including land with planning consents currently in the pipeline, will be £820m in 2014.
As well as the deep mines, the firm has active surface mines at Steadsburn in Northumberland, Cutacre in Bolton, Lodge House in Derbyshire and Long Moor in Leicestershire.
It bought the English coalfield assets of British Coal for £815m in December 1994.