Dr Daniel Ubani's gagging bid rejected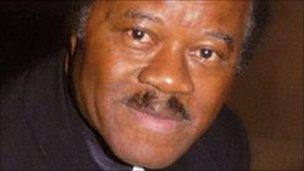 A German doctor who accidentally killed Cambridgeshire patient David Gray has lost his legal bid to stop Mr Gray's sons talking to the media.
Dr Daniel Ubani, who was struck off by the General Medical Council, claimed Rory and Stuart Gray should not be able to call him a "killer" and "charlatan".
A German court rejected his case with the exception that the Gray brothers must not call Dr Ubani an "animal".
Rory Gray said he believed the legal hearing's decision was a "fair result".
If Dr Ubani had succeeded in his application to the court in Kempton, Bavaria, the Gray brothers would have faced a European-wide injunction.
Mr Gray, who lives in Kidderminster, Worcestershire, said he was pleased by the verdict, adding: "It means that we can continue to speak the truth and inform people about the danger he presents."
Dr Ubani was working for an out-of-hours medical service in 2008 when he injected 70-year-old David Gray with 10 times the recommended dosage of diamorphine during a visit to his home in Manea.
The specialist in cosmetic medicine, who is based in Witten, Germany, had admitted confusing morphine with another drug.
Following Mr Gray's death, Dr Ubani was handed a nine-month suspended sentence by a German court after he admitted causing death by negligence.
On Tuesday, Dr Ubani was told he would be investigated by his employers, the local government at Arnsberg.
Previously it had refused to hold an inquiry.
The local government has the power to withdraw his licence to practise medicine in Germany and the hearing could be held in days.
Dr Ubani had won an injunction last week that stopped his medical association from investigating him and testing his medical competence.
The sons of Mr Gray heckled Dr Ubani at a medical conference in Bavaria in June, forcing him to abandon his speech.