Convicted killer Paul Cleeland's new bid to clear name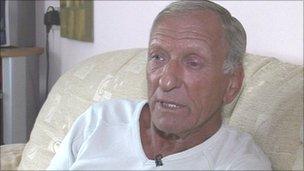 A man who served 25 years in jail for murder is to appeal to the European Court of Human Rights in a bid to clear his name.
Paul Cleeland, 67, who now lives in Folkestone, Kent, was jailed in 1973 for shooting gangland leader Terry Clarke in Stevenage, Hertfordshire.
Three Appeal Court judges turned down his request to reopen his case in 2002.
He claims forensic evidence used in his trial has been discredited and wants to use that as a basis for an appeal.
Mr Cleeland said techniques used in testing shotgun residue could show he had nothing to with the the murder.
He added: "I've always said I was innocent. I served my recommendation minimum 20 years but still wasn't released because I wouldn't say I was guilty.
"I sat for another seven years still protesting my innocence because I believed, when I know I'm innocent.
"All I want is the truth."
His solicitor, Ricky Arora, said: "Recently we've received information as a result of the Barry George case that would suggest that certain tests that were carried out at the time shouldn't have been relied upon and indeed other tests were available at the time that would in fact have cleared Mr Cleeland."
Appeal judges considered fresh evidence in his case in February 2002, but rejected all 20 grounds of his appeal and said there was nothing which threw doubt on the safety of his conviction.
Mr Cleeland was freed in 1998, five years after the end of his tariff.
Mr Clarke, a friend of Mr Cleeland, was shot twice as he got out of his car after returning from a Hertfordshire bar on Guy Fawkes night in 1972.
There was no eyewitness evidence against him and the only motive put forward by the police was that he had an argument with Mr Clarke two years earlier.
At Mr Cleeland's first trial in April 1973, the jury could not reach a verdict.
But a retrial later that year saw him convicted of murder and sentenced to life in jail, with a minimum tariff of 20 years.
Related Internet Links
The BBC is not responsible for the content of external sites.