Fire union call to scrap South West fire control centre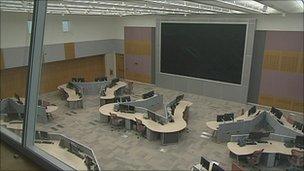 Plans for all regional fire service control centres, including one in Taunton for the South West, should still be scrapped, union leaders said.
The call comes after the BBC learned a £423m project for nine centres for all England could be scaled back to five.
The Fire Brigades Union said no more money should be wasted.
Devon and Somerset Fire Authority said it believed the Taunton centre was going ahead, but Avon's authority said it understood it would not be used.
The nine new regional control rooms approved by the previous government were built in England as part of a £423m project to regionalise the service.
But the centres have been standing empty for about three years, at a cost of £1m rent a month, because of problems with their computers.
John Drake, South West regional secretary of the FBU, said the failure to deal with the IT problems meant the project should be abandoned and it had "disaster written all over it".
The union is also concerned about possible loss of local knowledge if control centres become region-wide instead of the current fire service-wide.
The Taunton centre, due to open in May 2011, has been built to merge control centres for six brigades; Avon, Cornwall, Devon & Somerset, Dorset, Gloucestershire and Wiltshire.
Mr Drake said: "There is no guarantee that the kit in the regional centre will work. This is untried and untested technology.
"It should be scrapped now before another penny is wasted. It costs £5,000 a day just to keep it open. It simply cannot be allowed to continue in this way."
The Devon and Somerset Fire and Rescue Service Authority said it was still working on plans for staff to move into the centre.
Authority chairman Mark Healey said: "The project is going ahead. The talk of scaling back is just hearsay and conjecture at this time.
"There is a building in Taunton and we will be moving in when it is fit for purpose."
But Terry Walker, chairman of Avon Fire Authority, said he was "as certain as I can be" that Taunton was one of the control centres to be scaled down.
He said: "I met the supplier EADS in July and they've put forward proposals to government to use three of these control centres as data centres and one of those I understand is Taunton."
Mr Walker added: "What I understand may be happening is that EADS will take over all the buildings and take those off the government's hands if that's agreed.
"So there may be a situation of getting around it, but certainly there's been a tremendous waste of money that I really deplore."
The government told the BBC it was keeping a close watch on the control room plans.
Fire minister Bob Neil said the project must be delivered to time, to cost, and to quality.
Related Internet Links
The BBC is not responsible for the content of external sites.