Snail at Brownsea and Clivedon due to 'Victorian bling'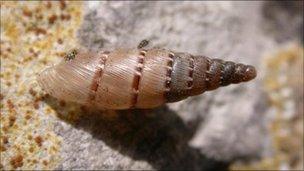 The Victorians' passion for importing lavish stonework from the Mediterranean may be a clue as to why a tiny species of snail came to the UK.
The mollusc turned up on Brownsea Island, Dorset, on rock from Greece in the 1880s and has also been spotted at the Cliveden estate in Buckinghamshire.
In a bid to find where else it has colonised, the National Trust has started an audit at its buildings.
Advisor Matthew Oates said the "bling" had been shipped in large quantities.
The snail, known as Papillifera bidens, has a pinky-grey spindle-shaped shell which is about 1.1cm long (just under half an inch), and is common in the Mediterranean, where it is often found on old buildings.
Although it has no English name, naturalists have said it could now be named after one of the two sites where it was found - either the Brownsea snail or Cliveden snail.
The snail was thought to have arrived at Cliveden on a balustrade from the Villa Borghese in Rome in 1896.
It could have taken more than a hundred years to reach stonework 60 yards (54m) away.
"The Victorians and Edwardians loved importing statues, rock and brickwork from the Mediterranean," Mr Oates said.
"The shipping over of this 'bling' in large quantities suggests we could find new species, such as this lovely little snail, in surprising places."
The findings in Dorset and Buckinghamshire, the only recorded occurrences in the UK, have led the National Trust to carry out an audit at its properties.
It is believed the snail could be in other parts of the UK after stonework from stately home gardens were sold off and relocated elsewhere.
"It has a amazing track record of hitchhiking," Mr Oates added.
"Its Mediterranean range has been expanding quite considerably, probably since Roman times and it may well be an inveterate hitchhiker on imported stone and statues of limestone and marble."
The trust said efforts to track the snail's spread would provide a good opportunity to learn more about its ecology and tolerance to different climates and conditions.
Related Internet Links
The BBC is not responsible for the content of external sites.