Facebook child abuse images ringleader jailed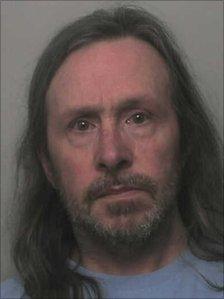 The ringleader of an international network who shared up to 100,000 indecent images of children on Facebook has been jailed for four years.
Convicted sex offender Ian Green, 45, from West Sussex, admitted 24 charges of making, possessing and distributing indecent images of children.
The court heard how Green would allow certain contacts to access private groups and share their own images.
Judge Charles Byers said it was a "sophisticated operation".
"These are the sorts of images which right-thinking people can never condone," he said.
"These are real children who are abused in order to satisfy the sexual pleasures of you and those who you seek to communicate with."
The judge said Green and the other Facebook users he shared the images with were "exploiting these children in the worst possible way".
Chichester Crown Court heard Green, of Littlehampton Road, Worthing, used 11 different Facebook accounts to distribute the images, along with indecent videos of children.
He also shared the photographs, 724 of which were rated at the most extreme level of "five", using email and MSN.
An international investigation into the network began when police in Australia linked a number of Facebook accounts containing indecent images of children to a user in the UK.
Investigators infiltrated the network and found that unemployed Green was enabling selected contacts to access up to three of the private groups at a time.
Once the contacts had demonstrated their trustworthiness, usually by adding their own child abuse images, he would facilitate access to the next group.
Each group contained more and more extreme images and films of child sex abuse.
On 29 April, the UK Child Exploitation and Online Protection (CEOP) Centre alerted Sussex Police to a Facebook user in the county with the profile name of Jodie Green.
Green was arrested at his home on 10 May.
The court was told he was already on the sex offenders register and had been jailed for 12 months at Guildford Crown Court in May 2005 for distributing indecent images of children and committing acts of gross indecency with children.
Five further suspected offenders have been arrested in the UK and another nine overseas under Operation Enrank.
The investigation also involved the FBI and police in Canada, Germany, Switzerland and South Africa.
"This is a growing area of offending, but our expertise is increasing," said Det Insp Ali Eaton of Sussex Police.
"We must never forget the child victims who are abused for the gratification of these paedophiles."
Facebook said that people known to be on the sex offenders register were not permitted to use the site, but it relied on police forces to inform it of new offenders.
It said it would investigate any suspicious activity or abuses reported to the site.
Related Internet Links
The BBC is not responsible for the content of external sites.