Burnley soldier's body flown back to UK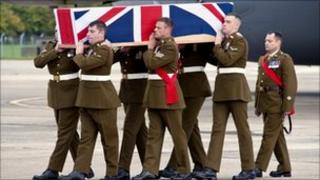 The body of a soldier from Lancashire who was shot dead in Afghanistan has been flown back to the UK.
L/Cpl Jordan Bancroft was killed during a gun battle which erupted while he was protecting a meeting between local elders and troops on 21 August.
The 25-year-old, of Earby, near Burnley, was part of 1st Battalion, The Duke of Lancaster's Regiment.
His body was flown into RAF Lyneham in Wiltshire and after a ceremony was driven through Wootton Bassett.
L/Cpl Bancroft's family and girlfriend, Lauren, said his death would "leave a huge hole" in their lives.
His commanding officer Lt Col Frazer Lawrence described him as a "true soldier" who was "loyal, brave, compassionate and honest".
"He had a natural ability to lead from the front. His men instinctively looked to him for advice and direction."
L/Cpl Bancroft was on his first visit to Afghanistan, having completed two tours of Iraq.
Interviewed by the BBC ahead of the deployment, the soldier admitted he was worried about the upcoming tour but confident in his training.
L/Cpl Bancroft's death brought the number of British military personnel killed on operations in Afghanistan since 2001 to 332.