Cadbury workers accept a 3.7% pay offer from Kraft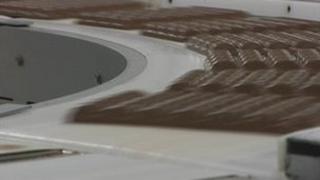 Cadbury employees have accepted a pay increase of 3.7% from new owners Kraft.
Staff at sites in Bournville; Keynsham, near Bristol; Chirk, near Wrexham; and Marlbrook in Herefordshire will have the rise backdated to March.
The Unite union recommended workers accept the rise while Cadbury said it was pleased the offer had been accepted.
US-based Kraft took over Cadbury six months ago.
A Cadbury spokesman said: "Following the recommendation from Unite we are pleased this offer has been accepted."
Kraft had been criticised by the Takeover Panel, which polices takeover bids in the UK, over a statement during its bid that it would keep open Cadbury's Somerdale factory in Keynsham.
After it had bought Cadbury, Kraft then announced it was shutting the Keynsham plant after all.