Peterlee cricket club hit by arsonists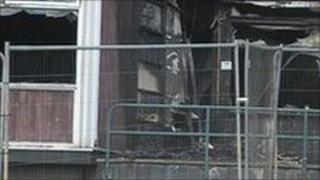 A County Durham cricket and social club has been severely damaged in a suspected arson attack.
Firefighters were called to Peterlee Cricket and Social Club, in Helford Road, after residents saw the blaze in the early hours of Thursday.
The fire gutted the lounge and damaged other areas of the club.
The building is home to Peterlee Cricket Club, which has four junior and three senior teams, as well as a social club with 250 members.
Stewardess Eileen Evans said: "Everybody is just absolutely devastated.
"We have had people coming here who are heartbroken and have just cried openly.
"We just cannot believe that this has happened."