Anti-high speed rail protester to walk route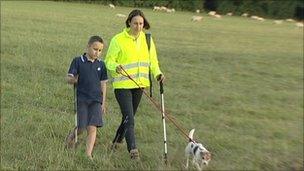 A campaigner opposed to the proposed high-speed rail link (HS2) between London and Birmingham has started a walk along the entire route.
Lizzy Williams, 36, who suffered a brain injury in a car crash two years ago, said it would probably take her the whole of September to complete it.
She lives in a rural location just north of Banbury and said the rail proposals would destroy the area.
Fellow campaigners have organised walks to coincide with hers.
Since the car crash, Ms Williams, a former land and project manager for a construction company, has been left with weakness to the left side of her body and the need to get a lot of sleep.
"It has been quite debilitating," she said.
"But some campaigners have offered to let me stay with them during the walk and I will go home some nights as well."
Ms Williams is a founding member of campaign group Stop HS2 and discussed the walk with fellow objectors through the internet.
She began at the railway bridge north of Lichfield Golf and Country Club, Staffordshire, which is the northernmost point on the published Department for Transport maps.
She then hopes to include a walk of the Kenilworth Greenway to Burton Green in Warwickshire, with fellow campaigners on Sunday.
On September 11 she hopes to have reached the Battle of Edgcote re-enactment in Chipping Warden, Oxfordshire, and then on to meet fellow campaigners from the Chiltern Society in Amersham.
The proposed railway route was announced in March and is scheduled to go from London's Euston Station, to just south of Aylesbury, up to between Coventry and Kenilworth, and then into a new station in the Eastside area of Birmingham.
The track will be designed to carry trains at up to 250mph, cutting the London to Birmingham journey time to 49 minutes.
Her progress can be followed on the Stop HS2 website.
Related Internet Links
The BBC is not responsible for the content of external sites.