WWII German bomber to be recovered from Goodwin Sands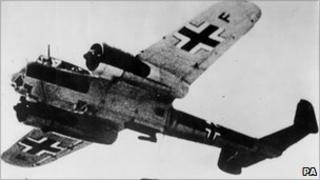 A rare German WWII bomber which has been buried in a sandbank off the Kent coast for the past 70 years is to be raised, it has been announced.
The twin-engined Dornier 17 was shot down over Goodwin Sands, near Deal, during the Battle of Britain.
The Royal Air Force (RAF) Museum said it had worked with Wessex Archaeology to survey the site since the bomber emerged from the sands two years ago.
It will go on display at the museum in London once it has been recovered.
A spokeswoman for the RAF said the aircraft was part of an enemy formation which was attempting to attack airfields in Essex when it was intercepted on 26 August 1940.
'Unprecedented survivor'
The bomber's pilot, Willi Effmert, carried out a successful wheels-up landing on Goodwin Sands but the plane sank.
Mr Effmert and another crew member were captured but two other men died.
The aircraft, nicknamed the flying pencil, is said to be largely intact with its main undercarriage tyres inflated and its propellers showing crash damage.
Air Vice-Marshal Peter Dye, director general of the RAF Museum, said: "The discovery of the Dornier is of national and international importance.
"The aircraft is a unique and unprecedented survivor from the Battle of Britain.
"It is particularly significant because, as a bomber, it formed the heart of the Luftwaffe assault and the subsequent Blitz."
He added: "The Dornier will provide an evocative and moving exhibit that will allow the museum to present the wider story of the Battle of Britain and highlight the sacrifices made by the young men of both air forces and from many nations."
Work to prepare the Dornier for display at the Battle of Britain Beacon project will be carried out at the RAF Museum's conservation centre in Cosford, Shropshire.
The museum, with the support of English Heritage and the Ministry of Defence, is drawing up a plan to recover the aircraft.