Woman walking high-speed rail route reaches Warwickshire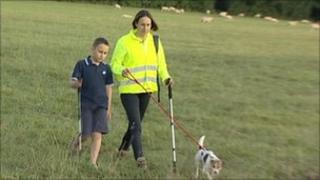 A campaigner opposed to the proposed high-speed rail link (HS2) between London and Birmingham is walking through Warwickshire this weekend.
Lizzy Williams, 36, started in Lichfield earlier in the week. She intends to walk the course of the proposed rail route.
Other campaigners from the Stop HS2 group will meet her along the way.
Some residents in in Northamptonshire, Warwickshire, Staffordshire and Buckinghamshire are against the scheme.
The route would go from London's Euston Station, run just south of Aylesbury, between Coventry and Kenilworth, and then into a new station in the Eastside area of Birmingham.
The track would be designed to carry trains at up to 250mph, cutting the London to Birmingham journey time to 49 minutes - around half an hour less than current journey times.
Ms Williams, who suffered a brain injury in a car crash two years ago, lives in a rural location just north of Banbury and believes the rail proposals would destroy the area.
She said: "I'm pretty tired... I am really pleased with how far we have got so far and all the people we have met and the things we've found out.
"We've been meeting people up and down the line who are affected by this and don't know about this and generally we are just trying to spread the word."
The coalition government has said it is committed to establishing of a high-speed rail network as part of its programme of measures to create a low carbon economy.
A £50m compensation fund was set up last month by the government for homeowners and firms affected.
Ms Williams began at the railway bridge north of Lichfield Golf and Country Club, Staffordshire, the northernmost point on the published Department for Transport maps.
By 11 September she aims to have reached the Battle of Edgcote re-enactment in Chipping Warden, Oxfordshire, and then moves on to meet fellow campaigners from the Chiltern Society in Amersham.