Record hopes after 57-hour football match in Coventry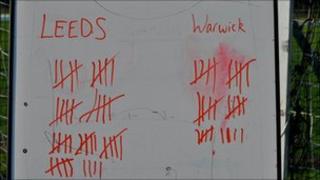 Two teams hope their 57-hour charity football match at Warwick University has set a new world record.
The amateur teams played the football marathon, which ended on Sunday evening, to raise £10,000 for The Meningitis Trust.
Leeds Badgers beat the Warwickshire Wolves by 425 goals to 354.
Ex-Liverpool and Wales striker Ian Rush, who had meningitis at age six, called the match a "fantastic achievement".
The money is being raised in memory of Jamie Burdett, a Leeds Badgers player who died from meningitis three years ago.
Event organiser Simon Lynes, 25, said: "The hardest thing was playing through two nights - it got pretty cold and we got cramps."
Mr Lynes knew Jamie when they studied together at Leeds University and said they hoped to raise funds "in memory of a good friend".
'Vital funds'
The two teams previously held the world record of 36 hours last year, when more than £5,000 was raised for The Meningitis Trust.
But Mr Lynes said a new record of 42 hours and five minutes was set in Qatar in May this year.
The participants, who played in each of the 11 positions, were allowed a five-minute break for every hour of play.
He said breaks could be accumulated so players could sleep for three hours after 36 hours on the pitch.
Mr Lynes, who is studying medicine at Warwick University in Coventry, was facing the first day of term after the marathon match.
He said players were feeling energetic at different times so "people were running around the whole time".
Mr Lynes said one player was taken to hospital with a suspected broken foot during the match but returned to play for 10 hours.
Rush, an ambassador for the charity, said: "What the two teams have done is a fantastic achievement for English football and also The Meningitis Trust.
"I am so proud of what they guys have done, raising awareness of this awful disease but also raising vital funds to help the trust to continue its much needed work."
Details of the match will now go before Guinness World Records' adjudicators to verify.