Former head teacher jailed for sexually abusing pupils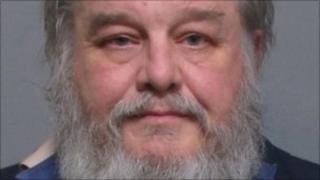 A former boarding school head teacher who sexually abused and hit pupils has been jailed for 21 years.
Derek Slade, 61, of Burton-on-Trent, Staffordshire, was convicted of the offences against 12 boys aged between eight and 13.
Ipswich Crown Court heard the abuse took place between 1978 and 1983 at private schools in Wicklewood, Norfolk, and Great Finborough in Suffolk.
Slade hit boys with a slipper, a table tennis bat and his hand, jurors heard.
Police were first contacted in June 2000 with allegations of assault by a former pupil but detectives could not trace Slade.
In 2008 and 2009 more former pupils came forward to police in Norfolk and Suffolk claiming Slade had abused them.
Oxford-educated Slade, who had no teaching qualifications, was arrested in Derbyshire earlier this year.
He had admitted assault, indecent assault and child pornography offences.
He denied other allegations of assault and indecent assault but was found guilty after a month-long trial.
Former pupil Simon Wilshire was not sexually abused by Slade but described the former head teacher as "experienced in the art of beating".
Mr Wilshire, now 45, recalled the first time Slade hit him on his second day of school when he was 13 after being caught smoking.
He said: "We were called into his bedroom one at a time to be whacked on the bare backside.
"He always let us wait - he was a master at letting the fear kick in."
Mr Wilshire added: "We would be beaten at least every week, pretty much at Slade's whim, it was relentless.
"The school was an incarceration facility where boys were beaten - and now it turns out they were molested there as well.
"Slade must never leave prison as long as he lives."
Det Ch Insp Adrian Randall said: "Whilst Slade may have committed these offences 30 years ago, for the victims their pain remains very real.
"I cannot begin to imagine how difficult it must have been for these men to come forward and try to make sense of what happened to them decades ago as defenceless young boys."
He said more information had come to light as a result of publicity about Slade's trial and police inquiries were continuing.