Blumenthal's Hinds Head named Michelin Pub of the Year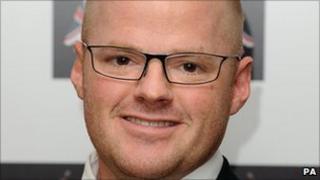 The Hinds Head pub in Berkshire, owned by chef Heston Blumenthal, has been named Michelin Pub of the Year 2011.
The business in Bray-on-Thames, which he bought in 2004, was awarded the accolade in the latest Michelin Eating Out in Pubs guide.
His more traditional menu includes duck and smoked guinea fowl terrine as a starter and fish pie as a main course.
Mr Blumenthal said: "[The award] is such a surprise. It is a great signal to the staff for all their hard work."
Tudor inspiration
He added: "I am never going to get blase [about winning awards]."
The Hinds Head dates back to Tudor times and has been visited by Royals including Prince Philip who held his stag night celebrations there.
Mr Blumenthal said he discovered "some amazing historical recipes" when researching the menu for it.
However, the celebrity chef's purchase and refurbishment of another Bray pub, The Crown Inn, is thought to have attracted criticism from some villagers.
"I am not saying that everyone in the village likes the Crown but the core locals still go there.
"The menu is simple and the key thing is that it is a village pub and I would never like to see that go.
"The feedback we have received has been supportive."
In August, Mr Blumenthal's restaurant The Fat Duck, also in Bray, was named the UK's best restaurant for the third year in a row.
Derek Bulmer, editor of the Michelin Eating Out in Pubs guide, said: "The traditional drinking pub has undoubtedly been suffering but those that are making efforts with their food are flourishing.
"Even some of the breweries have acknowledged this and have begun recruiting talented chefs. If there is one message it is: adapt and thrive."