Compulsory water meters pilot scheme in Rochester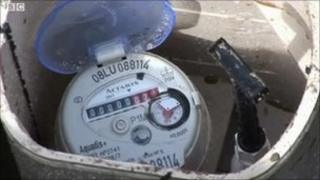 Compulsory water meters are being fitted in 150 homes in Kent in a pilot scheme before more than 500,000 are installed across the South East.
Southern Water is installing the meters at homes in Rochester as a trial run before moving into the wider Medway area later this year and early in 2011.
The South East has been identified as an area under severe water stress where compulsory meters can be fitted.
The company is embarking on a five-year meter installation schedule.
It aims to install the 500,000 meters at customers' homes in Kent, Sussex, Kent, Hampshire and the Isle of Wight by 2015.
'Simple changes'
"We want to make sure this process runs as smoothly as possible and our customers feel fully informed about why we are doing this," said Darren Bentham, director of metering.
"We believe metering is the fairest way for people to pay for their water.
"By making a few simple changes, people can save water, save energy and save money."
The most advanced meters of their kind are being installed, under pavements where possible.
The "intelligent" automated meter reading devices allow meter readings to be taken remotely by vans fitted with readers.
They also monitor peak times for water usage and the company has plans in the future to charge 6% more from June to September but 2% less at other times of the year.