Call to South East communities to help beat terrorism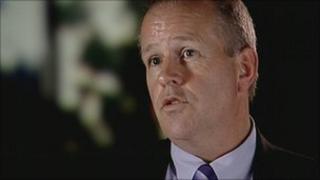 The most senior counter-terrorism officer in south-east England has called on communities to help identify people at risk of being radicalised.
Speaking ahead of the anniversary of the 9/11 attacks in America, Det Ch Supt George Turner said Al-Qaeda extremists posed the "greatest threat".
But he said other threats to UK security included animal extremism and "extreme right-wing activity".
However, he said the South East was at no greater risk than other regions.
The counter-terrorism unit headed by Mr Turner is based in West Berkshire and covers the Thames Valley, Hampshire, Surrey, Sussex and Kent police force areas.
Speaking to the BBC in his first broadcast interview, he said: "There are problems in this area as there are in every region and in every community.
"There's been some very high profile terrorist incidents. There's been some very high profile, what we call domestic extremism."
The region covered by the South East unit includes sensitive sites such as Portsmouth Naval Base, Gatwick Airport and the Port of Dover.
Mr Turner said that the regional unit supported the work of county forces such as Sussex at Gatwick.
He added: "Historically there have been some links to the major terrorist, iconic attacks, that have taken place throughout the UK and some of those investigations.
"That was obviously a factor in the unit being set up."
'Violent extreme views'
Mr Turner said working with local communities was another key function in helping to defeat terrorist activity.
He added: "There are specialist officers with particular skills at regional level.
"Then each force has its own specialist working with communities to try to identify vulnerable people and prevent them becoming terrorists.
"It is also about supporting those communities who want to have a voice against those with violent extreme views who perhaps feel intimidated.
"It is communities that defeat terrorism."