Inquest into blast deaths of soldiers in Afghanistan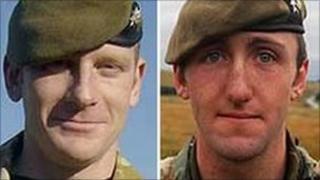 Inquests are to open into the deaths of two Royal Anglian soldiers killed in an explosion in Afghanistan in March.
Lance Corporal Scott Hardy, 26, and Private James Grigg, 21, both of 1st Battalion, were caught in a blast in the Musa Qala area of Helmand province.
L/Cpl Hardy was from Chelmsford in Essex and had served in Afghanistan since October 2009.
Pte Grigg, lived in Stradbroke, near Eye in Suffolk, and was described as a quiet and "trustworthy" soldier.
Lt Col James Woodham, commanding officer of 1st Battalion, said L/Cpl Hardy was a natural leader with a "robust sense of humour".
Lt Col Woodham said: "Pte Grigg was passionate about soldiering and cricket.
"Friendly, polite and endlessly helpful, he was a real team player that you would want to have on your team. He was reliable - a man you could trust."
The inquests will take place at Trowbridge Civic Hall, Wiltshire.