Cutting England's police forces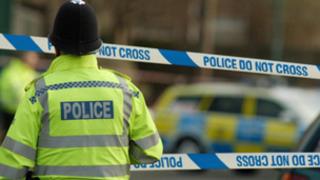 Hampshire Constabulary's plan to axe 1,400 posts is the latest in a string of budget cut announcements by police forces in England.
The Police Federation has said up to 40,000 frontline police jobs could be axed across England and Wales if government spending cuts go ahead.
Many forces have already announced potential job losses, both civilian and officers, but others have not yet.
The largest so far is in Kent, where 1,500 posts are expected to be lost.
The force is preparing for 20% of the budget - £53m - to be cut. A thousand civilian posts and 500 officer jobs are under threat.
West Midlands Police could lose up to 1,000 officers as it makes cuts of £140m, according to figures released by the Police Federation.
The 1,400 posts that Hampshire Constabulary may lose - which equates to 20% of its workforce - would allow it to reduce its budget by £70m over the next four years.
The Police Federation said 120 roles per year would be cut through natural wastage.
Public order, domestic violence, dogs and road units are expected to be cut and domestic violence teams will reduce from six to three or four.
In North Wales, it is anticipated 251 officers will be lost over four years and the dogs unit is expected to take a 25% cut.
In Lancashire, up to 1,000 jobs are under threat. The Police Federation suggests 600 of these will be police officers, whose jobs will be lost over four years.
The force is also expected to end 24-hour helicopter support and reduce roads and intelligence units, the federation said.
The cut to the police budget in England and Wales is generally expected to total 25% - in line with other government cutbacks - but the exact level will not be known until the current spending review is published in October.
Policing and Criminal Justice Minister Nick Herbert has called on the Police Federation to avoid scaremongering, saying it was simply speculating at this stage.
Chris Herbert, editor of the Jane's Police Review magazine, said the country would have "very much slimmed down police forces" if the government's budget cuts go ahead.
He said he feared specialist units in areas such as rape, economic crime and cold case reviews, would be affected most.
'Drastic changes'
"If you are losing 25% of staff you cannot do what you did before," he said.
"There will be much fewer police officers and police staff doing fewer things.
"There will be drastic changes, there has to be, but it will not really be until the end of next month when we will know what it will be."
A study was conducted for Jane's Police Review by former Gloucestershire Chief Constable Tim Brain in July, which suggested up to 60,000 police officers and civilian posts could by axed by 2015.
Mr Herbert said the Police Federation's predicted 40,000 figure announced on Friday backed up their research.
"The government is going to find it hard to say that this is all scaremongering because the hard facts are blaring out - what the federation is saying and what our research said," he added.
Professor Peter Waddington, director of the Central Institute for the Study of Public Protection at the University of Wolverhampton, said the Police Federation's 40,000 figure was a "reasonably accurate projection", possibly "conservative".
He said the number of fully sworn officers and Police Community Support Officers had grown significantly since the mid-1990s and the crime levels had dropped.
He said: "The big story is, is this going to turn around what has become a steady 20-year reduction in crime levels?
"Are we going to head back to the ballooning crime levels of the 1980s?"
Recruitment freeze
Prof Waddington said the job losses were "an enormous concern" for police, but the impact of public sector cuts in general on communities, and how that will affect crime and disorder, was a more serious issue.
In Greater Manchester, 221 officers have been lost since December. Public order, counter-terrorism and roads specialist units are also expected to be cut.
In Cleveland, 160 officers will go and specialist roads policing is expected to be reduced.
Avon and Somerset Constabulary expects cuts of £32m over four years, though no officer job losses have been announced yet.
One hundred officers from Warwickshire Police - 10% of the force - could be lost and 180 from Devon and Cornwall Police.
In August, Merseyside Police Authority backed a recruitment freeze, meaning the possible loss of 240 officer posts by April.
The Police Federation figures suggest 200 officers will be lost from Merseyside Police per year and sections dealing with public order, domestic violence, dogs and roads are at risk.