Rail staff balloted over assaults on Southern trains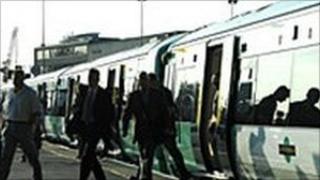 Workers at Southern Railway are to be balloted for industrial action over a claimed upsurge in assaults on staff.
The RMT union said since cost-cutting was introduced it had seen a "marked increase" in assaults and threats of physical violence against staff
Southern Railway has accused the RMT of being "irresponsible and misleading".
The company provides services between London and the South coast, covering East and West Sussex, Surrey and parts of Kent and Hampshire.
RMT General Secretary Bob Crow said it was now up to the company "to treat safety with the seriousness that it deserves and to begin meaningful discussion with the RMT to resolve this dispute".