Teams carry full survival ShelterBox over Dartmoor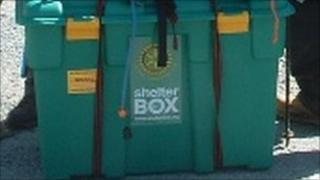 More than 100 people have set off on a two-day fundraising event on Dartmoor.
Thirty-two teams of four are attempting to carry a fully loaded ShelterBox across the moor for 30 miles (48km).
The teams will use the contents of the emergency survival box, including the 10-person tent, to camp overnight on the moor.
The Cornwall-based charity hopes the endurance event will raise about £40,000 - enough to pay for nearly 100 relief boxes.
The competitors set off from the River Dart Country Park at Ashburton at about 0900 BST.
They will carry the 66lb (30kg) box across Dartmoor, spending the night under canvas at Harford, before making their way back to Ashburton.
ShelterBox was founded by Rotarian Tom Henderson and adopted by the Helston-Lizard Rotary club in 2000.
It sends boxes of aid to people made homeless by natural or man-made disasters across the world.
The tent will provide shelter for up to 10 people and the equipment includes sleeping bags, pots and stove, water purifying tablets and a basic tool kit.
The boxes are currently being used in Brazil and Pakistan to help people displaced by flooding.