Caroline Lucas in call to West Midlands car plants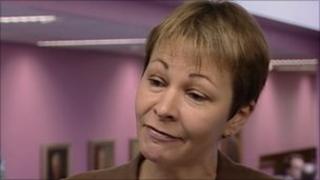 The leader of the Green Party said she wanted to see the West Midlands at the forefront of green automotive design.
Speaking on the West Midlands Politics Show, Caroline Lucas said she wanted to see an expansion of green jobs in the region.
She said there was huge potential for plants to make sustainable cars that do not run on traditional fossil fuels.
"I see a jobs rich future for the West Midlands and it's the Green Party that's championing that," she added.
Less than 1%
She said: "There's huge potential in the West Midlands for looking at some of those car plants and car factories and thinking how do we make sure they're producing the most sustainable vehicles possible?"
The party, which has been holding its annual conference at the Birmingham Conservatoire since Friday, has only three councillors elected in the region on Solihull Borough Council, Herefordshire Council and the Malvern Hills District Council.
In May's general election the party finished seventh in the region, gaining less than 1% of the vote.
Ms Lucas, who was elected as the party's first MP in Brighton Pavilion, said she hoped the party could also improve its reach in the West Midlands.