Wheelchair user's long bus wait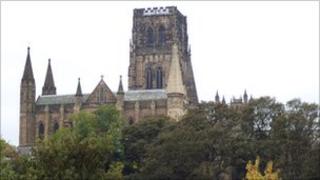 A lack of accessible buses left a Teesside man and his 90-year-old disabled mother stranded in Durham.
Robert and Florence Horner were at the bus station in good time for a bus back to their Stockton home after a day out.
But they had to endure a four-hour wait after four buses in a row had steps which his mother, a wheelchair user, was unable to access.
Arriva North East apologised but said it did not operate a full low-floor, easy-access fleet.
Mr Horner said he and his mother had turned up at the bus station by about 1745 BST, but by the time the second bus had been and gone they were getting a "bit sick and fed up".
'Absolutely mad'
"I asked someone I took to be an inspector and he said the next bus would definitely be low-level, but when it came in it had steps.
"My mother was a bit desperate because there were no toilets with disabled facilities and I was starting to panic wondering how we were going to get home because I'd no money for a taxi or anything like that."
However the next bus, and the one after, also had steps.
"I was getting absolutely mad, to be honest, really annoyed," Mr Horner said.
"I asked a different inspector and he said 'you've no chance of getting a low-lying bus'.
"Then he said 'that's not my problem, you'll have to get a train.'
"Just then a low-lying bus came in for Hartlepool, so we were able to get it, and make a connection for Stockton on another low-lying bus.
"We arrived home about quarter to eleven at night."
Arriva said in a statement: "We apologise for the inconvenience suffered by Mr Horner and his mother on their day out to Durham.
"However, we are well ahead of government guidelines to have a full low-floor easy-access fleet by 2015, which will make sure every service is accessible to all."