Investigation after 'model rocket' passed near plane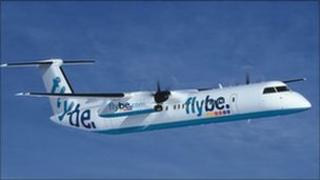 A suspected model rocket flew close to a passenger plane as it approached Gatwick airport.
A member of crew on the Exeter-based Flybe plane reported seeing the object about 4,000ft (1.21km) above Crowborough on 9 September.
Sussex police have concluded from the location it was probably a rocket fired by an amateur enthusiast.
They said the rocket passed below the aircraft and there was no reason to believe it was aimed at the plane.
A spokesman said: "Our inquiries do not indicate that there was any criminal intent."
The police said there was no damage to the aircraft and there was no evidence to suggest the aircraft was endangered.
The UK Civil Aviation Authority (CAA) said it was not investigating the incident as it had not been reported to the CAA, due to the small size of the rocket.
Under the CAA's Air Navigation Order, a rocket propelled by a motor does not require permission to be launched if its power is less than 10,240 Newton-seconds.
The plane landed at Gatwick on time.