'World's last' steamcoaster heads home to London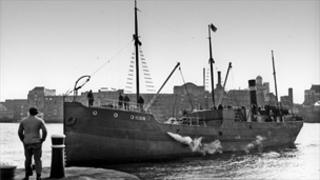 A ship, thought to be the last steamcoaster in the world, is under tow heading for her new home after a £1.9m restoration in Suffolk.
The 300-tonne SS Robin left Lowestoft for the Port of Tilbury on Friday lunchtime after being delayed for nearly a week by the weather.
The steamcoaster, built in 1890 and listed on the National Historic Fleet register, will be a floating museum.
She will stay at Tilbury while a decision is made on her London base.
The SS Robin was taken to Lowestoft in 2008 to undergo conservation work and repairs to her riveted structure. The work has been funded by Crossrail.
Project management consultants Kampfner Limited led a team of East Anglian and London-based marine consultants, engineers, naval architects and shipwrights in the two-year restoration project.
SS Robin project director, David Kampfner, said: "The ambitious, world-first concept which has been created for SS Robin displays the entire ship to the world for the first time."
Steamcoasters in their hey day went from port to port carrying heavy cargoes ranging from cereals to steel or coal.
SS Robin worked mainly out of London delivering cargo to larger ships destined for North America, India or Australia.
Steamcoasters also took return cargoes for delivery to ports around the British Isles and occasionally to Europe.