Public urged to support County Durham train plant bid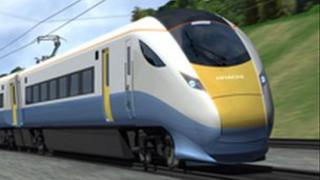 Durham County Council has urged members of the public to support its bid to bring train-building jobs to the area.
Hitachi was provisionally awarded a £7.5bn government contract to build the express train carriages and must now choose a location for the plant.
It has already indicated that Newton Aycliffe is its "first choice" and a government decision whether to approve the Hitachi contract is due in October.
People are being urged to gather at the proposed site of the plant later.
The study of the advantages of building super express trains in Newton Aycliffe estimated a £660m boost over 20 years. About 1,000 jobs could be created.
Sedgefield MP Phil Wilson said: "If we get this it would be the biggest investment in the north-east of England since the Nissan car plant in Washington."
He urged people to respond to Durham County Council's call and take part in the show of support on Saturday lunchtime.
"We hope that many, many people will see how much it matters that Hitachi is granted the contract next month", he said.
"If this campaign comes to fruition then there will be huge benefits for thousands of local people, so please come and lend your strength to it."