County Durham crash teenager's safety message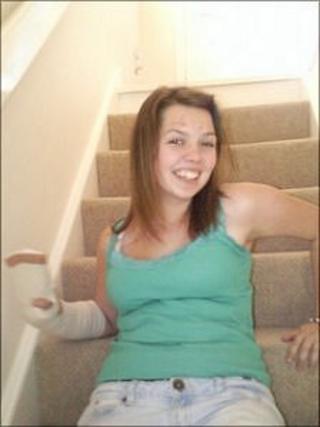 A teenager who was seriously injured in a crash two months after she started driving is taking part in a project to help young motorists in County Durham.
Anna Drysdale, from Darlington, was 17 when she crashed into a tree off the A689, near Rushyford roundabout.
She broke her femur, damaged her hand and spent 12 weeks in a wheelchair and later suffered from flashbacks.
She is now taking part in Durham Police's Wise Drive scheme, a safety initiative aimed at young drivers.
She said she wanted to get the message across about the full consequences of being involved in a crash.
"In my case it took months of hard recovery, medications, police statements, hospital appointments, operations and counselling before I was ok again," she said.
"When you first pass your test you are proud of yourself and have the slight arrogance of thinking you're the best driver in the world. I was like that, and ultimately paid the price."
Wise Drive - Drive for Life is running for the 11th year and involves 15 and 16-year-olds.
They take part in practical workshops, including driving and brake reaction simulators and a demonstration by firefighters of how they deal with crashes.