Arrests after £8m of cannabis found on boat set for UK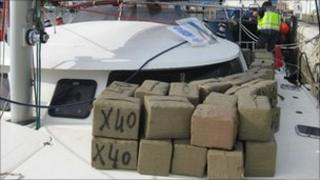 Two Sussex men and one from Surrey face extradition to Spain after a boat with £8m of cannabis destined for the UK was stopped between Morocco and Spain.
It follows an operation between the Serious Organised Crime Agency (Soca), the Middle Market Drugs Partnership (MMDP), and Spanish National Police.
The catamaran was taking 2.8 tonnes of cannabis from Morocco to the UK when it was boarded by armed police on Friday.
The three men were held in the UK and are due before Westminster magistrates.
The trio, two from St Leonards-on-Sea and one from Oxshott, are believed to represent the UK distribution end of the group.
Cash seized
They were arrested under European Arrest Warrants by officers from the MMDP, with assistance from Sussex Police.
Approximately £500,000 in cash was also recovered from the address in Oxshott.
Soca said the catamaran, the Cariro 2, had been hired by a British-organised crime group based in Malaga.
During the operation, the crew members were arrested, while additional arrests were made in Marbella.
Three British men and one British woman are now being questioned by Spanish police, along with three Moroccan men and one Moroccan woman.
The drugs haul was made up of 2.71 tonnes of cannabis resin and 100 kilos of high-grade skunk cannabis.