Affordable loan scheme to help England's low earners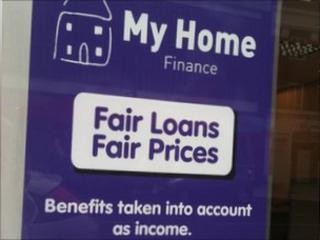 A not-for-profit lending scheme has been launched to help divert people away from borrowing money from loan sharks and doorstep lenders. BBC News looks at how it will help low-income families in the West Midlands region, where it is being piloted.
With Christmas coming and holidays to pay for, housewife Louise decided to borrow money from a doorstep lender.
The 40-year-old is registered disabled and unable to work.
Her husband works part-time and the couple have three children to look after at their home in Northfield, Birmingham.
The family borrowed about £700, but managed to repay the final amount in March, ending their connection with the lender.
"It was an amazing relief," said Louise, which is not her real name. "They can be quite pushy and send nasty letters and make nasty telephone calls.
High unemployment
"If you do not answer the door and the kids go to the door, they say, 'tell your mum this, tell your mum that'. They can be quite a problem if you can't pay the money back."
Louise is now looking into getting a loan from My Home Finance, a scheme set up by the National Housing Federation to provide manageable loans to "financially excluded" people - those who are unable to borrow money from a bank or a credit union because their income is too low or they do not have a credit history.
The project is being piloted in the West Midlands region, with branches already open in Walsall, Worcester, Hereford and Northfield in Birmingham.
Six more will open in the next few months.
The scheme aims to provide affordable loans to people like Louise to prevent them from using loans sharks, and also offers debt advice and helps customers open bank accounts.
"You cannot get a bank account if you are on benefits or on a low wage," said Louise. "With My Home Finance, they open a bank account, which means you can start your credit score off and can get direct debit sorted to pay bills. This is a way of getting a foot on the ladder."
The National Housing Federation, which represents not-for-profit housing associations in England, said the West Midlands was chosen for the pilot in part because of its high unemployment rate and low number of credit unions offering loans.
The interest being charged by My Home Finance is, however, higher than the maximum by law that credit unions can charge. It will charge 29.9% APR in the pilot scheme, rising to 49.9% APR in April, while credit unions are allowed to charge no more than 2% per month interest (26.8% APR).
David Orr, chief executive of the National Housing Federation, said it needed to cover costs for services such as carrying out 45-minute interviews for each customer to ensure it could get back the money.
"Because credit unions have a limit on how they can charge, they have a limit on who they can lend to," he said.
"What we want to do is fill the gap where the credit unions stop and the loan sharks start.
"The method that we use is one that involves sitting down with everyone who is looking for a loan, it's about relationship building.
"Because people we are offering the service to are people who do not have a computerised credit history, for us to be successful, we have to charge sufficient interest to cover the cost of us doing that."
Ian Boden-Smyth, spokesman for The UK Insolvency Helpline, which gives advice on debt, said the interest was high compared to what credit card companies and credit unions offered, but was considerably lower than what loan sharks and doorstep lenders charged.
"I would always tell people try to get a credit card first," said Mr Boden-Smyth, who used to work as a debt advisor and now gives lectures on the subject.
"If you can't get a card, look at credit unions and if you can't get that look at My Home Finance, then the next step up is doorstep lenders."
Mr Boden-Smyth said the scheme's success depended on its marketing scheme.
He said: "As long as it's well-marketed and council estates and tenants on low incomes have access to it, it will work."
But he said loan sharks had an advantage over something like My Home Finance because they had a presence on council estates.
"Unless they (My Home Finance) actively have a presence where the doorstep lenders operate, I think they will lose out to the doorstep lenders who run slick operations."
He said the fact the scheme was run in connection housing associations would help them target the right people.