Kent hospital prepares for neighbouring patient influx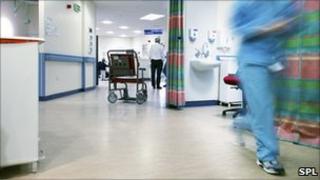 A Kent hospital is preparing for an influx of patients after a neighbouring hospital announced plans to shut its A&E and maternity departments.
The Queen Mary's hospital, Sidcup, south London, said it was having to make the closures over the winter because of severe staffing problems.
The Darent Valley Hospital in Dartford has now started hiring extra staff to cope with the additional demand.
It expects to have 7,000 more patients and deliver another 1,000 babies.
Jenny Kay, director of nursing at Darent Valley Hospital, said: "We've been very actively recruiting.
"We've known this has been coming so we've been building up our staffing.
"We've taken on more midwives, more consultants and more nurses so we're very confident we can provide the care that these people need."