French experts to analyse Staffordshire Hoard items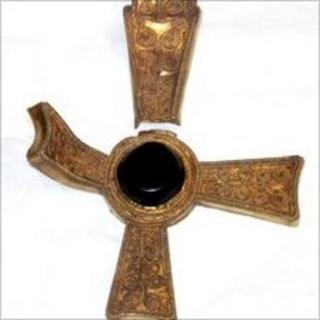 French experts are going to analyse part of the Staffordshire Hoard, it has been revealed.
Items with garnets embedded are being sent to the Louvre Museum in Paris in November.
"They will try to find out where the garnets come from and identify their origins," a spokeswoman for Birmingham Museum and Art Gallery said.
Meanwhile, restored items from the UK's largest find of Anglo-Saxon treasure have gone on display in Stoke-on-Trent.
The 21 artefacts, including a pectoral cross which is one of the signature pieces of the collection, have gone on show at the Potteries Museum and Art Gallery in Hanley.
The 3,500-piece haul was found in a Staffordshire field in July 2009.
It is now jointly owned by the Birmingham Museum and Art Gallery and the Potteries Museum after £3.3m was raised to keep it in the area.
A team of Anglo Saxon history and object experts has been recruited to research the treasure and provide "insights into the art, wealth, power and politics of the time", a spokesman for Stoke City Council said.