Cable hopes Devon and Cornwall will get 'proper' voice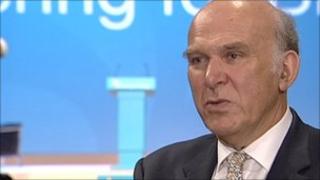 Business Secretary Vince Cable has said people in Devon and Cornwall will soon have a "proper" voice on the economy.
He was speaking about the introduction of Local Economic Partnerships (LEPs) in each county in 2012.
They will replace the South West Regional Development Agency which covers Gloucestershire to the Scillies.
Mr Cable said: "I am hoping the new structure will be business led and more geographically sensible and those areas will have a proper voice."
Economic priorities
The LEPs will be joint local authority and business groups, supported by a new regional growth fund.
Mr Cable has received 57 bids from businesses and local authorities to replace the nine RDAs in England.
He revealed at the Liberal Democrat conference that only a quarter of bids to set up LEPs were up to scratch, with others requiring "a lot of work".
Mr Cable expects LEPs to provide strategic leadership on their areas' economic priorities by looking at issues like planning, housing and transport.