Mother arrested after dead baby found in Bury garden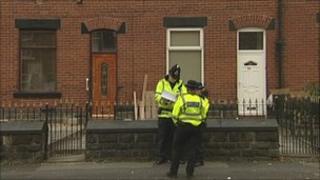 The mother of a newborn baby whose body was discovered in a garden in Greater Manchester has been arrested on suspicion of her daughter's murder.
The baby, named Aliyah by police, was found wrapped in a shawl in a garden in Tinline Street, Bury, on 6 September.
The woman, 25, was arrested on suspicion of murder on Tuesday morning.
She is in hospital and has not yet been deemed fit enough to be interviewed, according to a spokeswoman for Greater Manchester Police.
A house in Alfred Street - yards from Tinline Street - is being examined by police.
'Significant developments'
A post-mortem examination established that Aliyah - which means beautiful in Arabic - was believed to be no more than two days old.
Her body was found wrapped in a black and pink zebra-print shawl near a front garden wall by the homeowner at about 1115 BST on 6 September.
Police visited mosques and women's centres to try to find her mother.
Det Supt Sam Haworth, of Greater Manchester Police's Major Investigation Team, said the woman had been arrested at 0800 BST after "significant developments" in recent days.
He said officers were now trying to identify where Aliyah was born.
He added: "It is not clear at this stage if anyone else was aware of the birth - that will form part of our investigation."
He thanked the community for their support in the past three weeks and said officers would be updating them later.
Anyone with any information is urged to contact Greater Manchester Police.