Surrey County Council considers Airtrack U-turn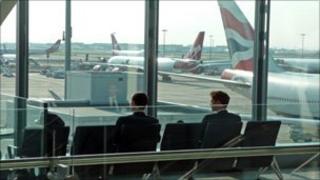 A local authority is considering dropping its opposition to a controversial rail link between Heathrow Airport and Surrey stations.
Surrey County Council had opposed the Airtrack line over concerns it would lead to delays at level crossings.
But it may now scrap its opposition after BAA, the company behind the scheme, agreed to fund an £11m package of transport improvements.
Opponents of the scheme said the measures were just "cosmetic tweaks".
The £675m line would connect Heathrow's Terminal 5 to London Waterloo, Guildford and Reading.
Signal upgrades
Some Heathrow Express services would be extended to Staines.
Opponents fear level crossings in Egham, Egham Hythe and Englefield Green would be down for about 40 minutes every hour - compared to about 20 minutes at present.
The package of improvements includes signal upgrades, new pedestrian and cycle routes, and measures to improve the traffic flow on surrounding roads.
The council's cabinet recommended accepting the package at a meeting on Tuesday but a final decision is due in December.
A public inquiry into the Airtrack scheme is set to take place early next year.