Deer with dog bite injury rescued in Crowborough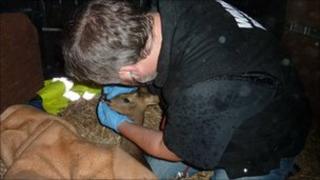 A young deer was rushed to a specialist wildlife hospital in Buckinghamshire after being found with an infected wound from a dog bite in East Sussex.
East Sussex Wildlife Rescue & Ambulance Service (WRAS) was called by a resident who found the wounded roe deer in Coopers Lane, Crowborough on Wednesday.
A veterinary ambulance from Eastbourne collected the animal, which was taken to the WRAS Whitesmith centre.
The deer was taken to Tiggywinkles animal hospital for treatment.
Rescuer Trevor Weeks said the deer, which was 3ft tall at the shoulders, was thought to be an early youngster from this year.
Amputation fear
It had several puncture wounds to its rear leg, which were infected.
Mr Weeks said the injury had been "quite old".
He added: "I really don't know how this young deer has managed this long in getting around."
Mr Weeks said it was feared the leg may have to be amputated, but the deer would be able to manage with three legs.
Tiggywinkles, in Aylesbury, has various sites where it releases three-legged deer on safe country estates.
WRAS appealed to dog walkers to keep their pets under control and only let them off the lead if they are sure they will not chase wildlife.
"These incidents quite often happen at this time of year, especially as the nights draw in and people walk their dogs in the dark," said Mr Weeks.