HS2 rail protest held near Conservative conference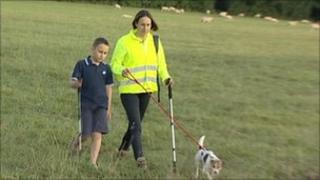 A protest has been held near the Conservative Party conference against the proposed HS2 high-speed rail link.
A planned new 250mph rail route between London and Birmingham aims to cut the journey time to 49 minutes.
Transport Secretary Philip Hammond said on Monday the government would also be backing high-speed link plans from Birmingham to Manchester and Leeds.
However, opponents say the move would be bad for the environment and cost more than could be afforded.
Lizzy Williams, who recently walked the length of the proposed link between London and Birmingham, was among those protesting opposite Birmingham's ICC.
She began a walk to the area on Sunday at Water Orton, Warwickshire, where a branch line into Birmingham would start under the plans, protest group Stop HS2 said.
Acting convenor Joe Rukin said: "We're completely against HS2 as it is because it is going to be incredibly bad for the environment...
"All the academic studies that have been conducted so far say it will not benefit anywhere but London...
"The main thing is this is at a time when the country is supposedly broke.
"We're facing cuts to health, education, fire service, police service, even playgrounds are being axed, but David Cameron still wants his train set."
'Great connectivity'
Plans for a new high-speed rail link were announced under the previous government in March.
It was backed in the coalition deal between the Conservatives and the Liberal Democrats, but they said that, given financial constraints, it would have to be done in phases.
They have said no final decision will be taken until a full public consultation, due to start in 2011, has been carried out.
In his speech to the conference in Birmingham, Mr Hammond said consultation would begin in the new year on the preferred route of the London to Birmingham leg of the rail network.
But he announced that ministers' preferred option for the link north of Birmingham would be for two separate corridors.
One would go direct to Manchester, which would connect to the West Coast Mainline, and the other via the East Midlands and South Yorkshire, with stations in both areas, which would connect to the east coast mainline north of Leeds.
Mr Hammond said: "By creating a smaller Britain, where literally journey times from Leeds to London will be about 80 minutes, we change the geography, we change the way people think and we change the opportunities that are available."
He added: "This great connectivity is fantastic news for the North East and other regions and will transform the economy, I have no doubt about that at all."