East Anglian pea farmers sign frozen food deal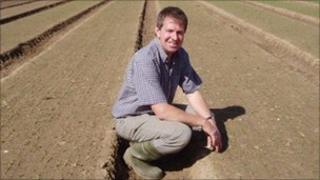 East Anglian pea farmers who lost a contract with Birds Eye earlier this year have signed a new deal to supply their crop to the UK market.
Ardo UK will buy peas from Anglian Pea Growers, a cooperative of 150 farmers, and pack them at its Kent base.
It also plans to create 38 jobs and upgrade pea preparation equipment at a site in Lowestoft in Suffolk.
In February, Birds Eye ended contracts with nearly half its UK pea growers after the withdrawal of an export deal.
Some of the affected farmers in Norfolk and Suffolk had been supplying the frozen food group for 65 years.
Ardo said the contract was worth an average of £20,000 to each of the farmers taking part.
'Highest standards'
Next year's estimated 14,800-tonne crop will be prepared and frozen by the company at Lowestoft and packed at its Charing head office, where new packing lines will be added.
"East Anglian peas are an excellent product, grown to the highest standards," said Stephen Waugh, managing director of Ardo UK Ltd.
"The produce will be grown, prepared, packed and consumed within the UK, adding value at every stage."
Richard Hirst, pea farmer and chairman of Anglian Pea Growers said: "The deal is very good news for our members and will bring back a valuable source of income to their farms following the loss of a major pea contract.
"Peas are a high value product and an integral part of the farming process as they serve to fix nitrogen in the soil and can be harvested in between other main crops."
The loss of the deal Bird Eye deal cost growers an estimated £5.5m in lost income in 2010.
Its 230 pea growers across Yorkshire, Lincolnshire and Perthshire were not affected.