Terry Newton funeral to be held at Wigan Parish church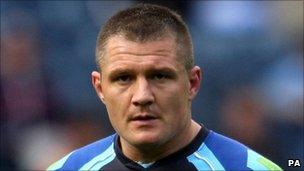 The funeral of former rugby league player Terry Newton will be held at the parish church in his home town in Greater Manchester.
The father-of-two, a former Great Britain international, was found hanged at his home in Wigan on 26 September.
The service will be held on 8 October at Wigan Parish Church at 1400 BST.
It was originally due to be held in St John's Church in Pemberton but has had to be moved due to building work. The burial will still be at St John's.
Newton's coffin will be driven past the DW Stadium in Wigan ahead of the service, at about 1330 BST.
The 31-year-old hooker was serving a two-year suspension after a positive test for a human growth hormone.
In addition to the ban from the UK Anti-Doping Agency, Newton was sacked by his club Wakefield when he tested positive for the banned substance in February.
At the time of his death he was running a pub in Wigan with his father.
During his career played for Leeds, Wigan, and Bradford.
He represented Great Britain 15 times, scoring three tries, and also won five England caps.
Related Internet Links
The BBC is not responsible for the content of external sites.