Woman 'told paedophile Colin Blanchard to assault baby'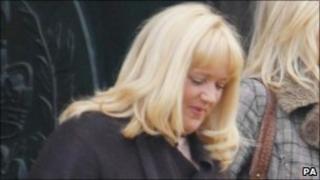 A paedophile has told a court he was told what to do by his then girlfriend as the pair sexually assaulted and took photographs of a five-month-old baby.
Colin Blanchard told Winchester Crown Court it had been Tracy Dawber, 44, who had taken the lead in the abuse.
Ms Dawber, formerly of Southport, Merseyside, denies the assault and allowing him to take indecent pictures.
Blanchard, 40, formerly of Rochdale in Greater Manchester, previously admitted being involved in the assault.
He is in custody awaiting sentence.
'Quite passive'
Blanchard told jurors Ms Dawber had lifted the child's clothes to show the infant had no nappy on. He said Dawber had told him to look at the child and to take the photographs.
"I was quite passive in the whole thing. I was taking the photographs as instructed," he said.
"I took a photograph and she asked me to show it to her and then I took another and I showed it again and she repositioned the child accordingly."
He told the court there had been sexual talk during the taking of the images but not much had been said afterwards.
Blanchard told the court the pair met in 2007 and started having normal sex before moving onto an "A to Z of sexual desires and fantasies". The pair had discussed child sex, he said.
He admitted he had been involved with other women including two named in court as Vanessa George and Tracy Lyons.
Blanchard also told jurors he had sent images of child sex to two unnamed women.
Facebook connection
Earlier the jury heard Dawber admitted it was her holding the baby in the photographs but denied any wrongdoing.
Blanchard was caught in June 2009 when a colleague discovered child pornography on his computer, the court heard.
He was arrested at Manchester airport and a connection through a Facebook account was made with Dawber.
Officers also uncovered the mobile phone from Blanchard's Volvo that contained the images of the baby, which were shown to the jury. It also showed Dawber in explicit poses.
When arrested in November 2009 Dawber would not confirm it was her holding the baby but she later admitted it.
The court heard officers found child pornography on her computer which was the same as that discovered on Blanchard's.
A computer file containing stories about incest was also found.
The trial was adjourned until Thursday.