Dead man lay on roof for 30 days after cliff fall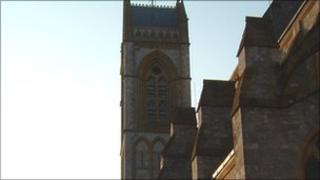 A man lay dead on a church roof for 30 days after he fell 80ft (24m) down a cliff, an inquest has heard.
John Hazlewood, 24, from Liverpool, fell from a garden on to the back roof of St John's Church in Torquay, Devon.
He was only found when a church warden saw what he thought was debris and fetched a ladder to investigate.
South Devon coroner Ian Arrow recorded an open verdict at an inquest in Torquay, saying it was impossible to know if Mr Hazlewood fell or jumped.
The inquest heard that Mr Hazlewood had been drinking in a pub while watching England play a World Cup game on 23 June.
'Incredibly drunk'
Friend Michelle Taylor said she had called Mr Hazlewood.
She said: "I told him to come over and he phoned to say he was making his way. He sounded incredibly drunk."
His last call was to a taxi firm early on 24 June, the inquest heard.
Church warden James Lang spotted something on the back roof on 23 July and realised it was a body.
Acting Det Insp Jonathan Phillips said the cliff edge from which Mr Hazlewood fell was in a large private garden with a low wall protecting the drop.
Coroner Mr Arrow said: "It is clearly very unfortunate he lay unfound for so long, which made it impossible to obtain a better medical cause of death.
"On the balance of probabilities he died from injuries sustained in a fall, but sadly there is no indication how he came to fall."