'Concern' over Scarborough and Bridlington hospitals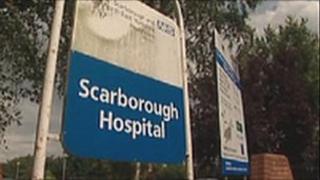 Serious breaches of safety and quality standards have been found at Scarborough and Bridlington hospitals, the health service regulator has said.
The Care Quality Commission (CQC) said patients were at greater risk of receiving poor care at the hospitals.
Although there was no evidence of harm to patients, "the high number of breaches presented a serious concern".
The NHS trust said safety was "an absolute priority" and it was already working to make improvements.
However, it said it was working against a background of "extremely complex" financial and recruitment problems.
The CQC warned the trust it could face enforcement action if swift improvements were not made.
Under a new system of regulation introduced in April the CQC can issue a fixed penalty of up to £50,000 for each serious breach of a standard.
At Scarborough Hospital, inspectors found the trust was fully compliant with only one of the 16 essential standards of quality and safety and at Bridlington Hospital with six of the 16 standards.
The regulator has now given the trust 14 days to produce its plans to show how it intends to achieve compliance.
Inspectors will return unannounced to check whether the necessary improvements have been made and to decide whether it needs to initiate formal enforcement action.
Jo Dent, regional director of CQC for Yorkshire and Humber, said: "No hospital will ever be risk-free, but risks can be minimised by meeting CQC's essential standards of quality and safety.
"We have no evidence of people being harmed as a result of the breaches at either Scarborough or Bridlington hospitals.
"But we want people to be aware that the risk of receiving poor care is greater in these hospitals because standards are not being met.
"When nurses don't keep proper records on patients or when staff aren't trained to protect vulnerable people from abuse, the consequences can be serious.
"If staffing falls below safe levels, or if staff are stretched too thinly, then people cut corners and mistakes can be made."
At Scarborough Hospital, the most significant concerns included incomplete records kept by nurses, a lack of training in adult safeguarding and staff shortages among nursing staff.
At Bridlington Hospital, the most significant concern related to training in safeguarding vulnerable people, which inspectors said was in place but most staff had not yet had.
A Scarborough and North East Yorkshire NHS Trust spokesman said: "Improvement actions are already happening across all standards however our improvement pathway is not yet complete.
"We have had a legacy of financial difficulties which we are still working to overcome.
"In addition, we have inherited an old, outdated and difficult-to-maintain hospital estate and due to our geographic location and demographic make-up, we also have recruitment difficulties.
"These issues are extremely complex and resolving them requires an intensive, long-term improvement programme, together with significant investment. "