Tempest Arms at Elslack named pub of the year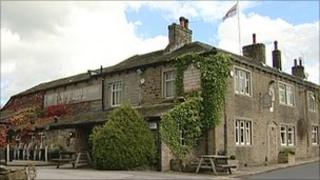 A 300-year-old country inn in North Yorkshire has been named pub of the year in the 2011 Good Pub Guide.
The Tempest Arms at Elslack, near Skipton, was selected for its "good food and drink, a great atmosphere and comfortable bedrooms".
The guide said: "Always deservedly busy, this 18th Century stone inn is stylish but understated with plenty of pubby character."
The Dining Pub of the Year went to The Potting Shed at Crudwell in Wiltshire.
The Watermill at Ings in Cumbria was named Beer Pub of the Year.
Thousands of people contact the guide each year to report praise or gripes about their pub experiences.
In contrast to the winners, almost 400 pubs have been excluded from this year's guidebook after a rise in complaints about bad service.
'Aggressive staff'
Criticisms were made of grubby or cheerless surroundings, piped music, a poor choice of beers and even a smelly roaming dog.
The guide said: "Another common complaint... is of surly, insulting or even aggressive publicans or staff."
Fiona Stapley, the guide's editor, said: "There are pubs which have never been in the guide which readers feel they simply must warn people against.
"The genuinely warm and personal welcome found in so many of the guide's pubs has become something of a rarity."
The guide found the price of pub food was on average 5% more expensive than last year and the price of a pint of bitter is up 4% to an average £2.80.