Fishermen's missions in Devon and Cornwall to close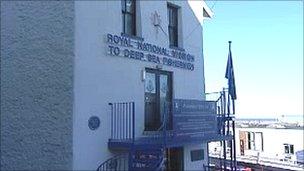 Fishermen's missions in Devon and Cornwall are to close in plans to shut the last seven missions in Britain.
The missions, in Brixham and Newlyn, are to close within five years, the Royal National Mission to Deep Sea Fishermen confirmed.
The charity said the buildings were no longer cost-effective to run and the resources could be used in other work.
The mission provides support, refuge and pastoral care to seafarers, particularly fishing communities.
The charity's chief executive, Dan Conley, said the missions' main buildings were no longer cost-effective to run.
He said: "These centres are now being significantly under-used by fishermen and their families.
"They're big buildings, they're very expensive to run, and they take up a lot of our staff's time with things and health and safety.
"We feel we can do a lot better with the money rather than keeping facilities which are under-used."
The charity said it could concentrate on providing emergency support directly when incidents arose, such as ships sinking or crew members being seriously injured.
The mission has had a presence in Cornwall since 1896. It was initially based in Penzance and moved to Newlyn in 1903.
The Brixham mission centre has also been serving the maritime fishing and seafaring communities of Devon for many generations. It is a recognised local landmark in the port.
Related Internet Links
The BBC is not responsible for the content of external sites.