Protest over joint Devon and Cornwall constituency plan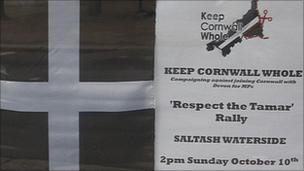 Campaigners against proposals for a new parliamentary constituency which would incorporate parts of Devon and Cornwall are staging a two-day protest.
Government plans suggest constituencies with 75,000 voters, which would incorporate part of both counties
Cornwall's six MPs have criticised any moves to combine the constituencies.
Protestors are following the River Tamar from Marsland Point in Devon to Saltash in Cornwall where they are due to stage a rally on Sunday.
Plans to re-draw the boundaries are being discussed at Westminster on Tuesday.
It is predicted that if boundaries are changed, South East Cornwall or North Cornwall would merge with Devon West and Torridge or Plymouth Moor View, incorporating two sides of the River Tamar.
Cornwall's three Conservatives and three Lib Dem MPs have said that there are definite economic and cultural differences between Cornwall and Devon, and that mixed constituencies might not recognise this.
Cornish MPs Sheryll Murray and Dan Rogerson said the Tamar River should not be crossed.
As a result, Cornwall's MPs held talks with deputy prime minister, Nick Clegg, last month to make their case that any such legislation should be amended to take special consideration of Cornwall's boundaries.
Although no assurances were made, the MPs said they were given a sympathetic hearing.
However, Plymouth Moor View MP, Alison Seabeck, said in the summer that although it would be controversial for a constituency to cross a river, "it could just as easily be a large expanse of heathland".
She added that the Boundary Commission would look at linkages like "where people travelled to work and school, and where they felt most aligned to".
The Boundary Commission has until 2013 to make its recommendations.
Related Internet Links
The BBC is not responsible for the content of external sites.