Row over plans to cut MP numbers in the West Midlands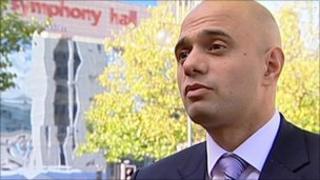 Concerns have been raised over predictions the West Midlands region could have nine fewer MPs under government plans.
The coalition has unveiled plans to reduce the size of the House of Commons from 650 to 600 MPs. Currently the region has 59 MPs.
The Electoral Reform Society (ERS) made the prediction it would cut West Midlands MPs to 50 after commissioning research on the redrawing of parliamentary boundaries.
The ERS research suggests boundary changes could see four seats disappear in Birmingham and the Black County, two each from Staffordshire and Warwickshire and one from Shropshire.
The Boundary Commission, which is responsible for boundary reviews, is to produce its proposals early next year with the next election being fought under the new boundaries.
'Ivory tower'
Cllr Roger Hollingworth, the Conservative leader of Bromsgrove District Council, said he was concerned by the findings from the ERS.
It found Bromsgrove could be redrawn to include Droitwich and Pershore at the expense of villages like Alvechurch - which would be included in a new Redditch constituency.
"These things are done in an ivory tower," he told the BBC Politics Show in the West Midlands. "I really do feel this is a top-down exercise."
However, Sajid Javid, Conservative MP for Bromsgrove, told the programme that the principle of reducing the number of MPs was right and denied it was about altering the map for party political gain.
"It's not about electoral gain at all," he said. "It's being done to reduce the cost of politics and to reduce the size of bureaucracy and government.
"Does it really make sense for us to have as many MPs as, let's say, the whole of India does with a billion people?"
Khalid Mahmood, Labour MP for Birmingham Perry Barr, said he was concerned the government's process, known as Reduce and Equalise, was being rushed.
Referendum call
"The real problem is the government is trying to do it too quick without taking account of what communities want," he said.
The Conservative MP for Stafford, Jeremy Lefroy, questioned the figures from the ERS and said he believed the reduction would only be between "five and six seats".
A bill containing plans to "equalise" constituency sizes to about 76,000 people and reduce the number of MPs to 600 cleared its first Commons hurdle last month.
The coalition says it is unfair that some MPs need almost twice as many votes to get elected as others because their consistencies have many more voters.
However, Labour says the proposals will disproportionately hurt Labour-supporting areas.
The bill also calls for a referendum on changing the voting system.