Gateshead man dies in High Force waterfall plunge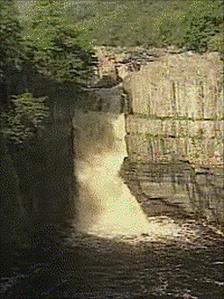 A Tyneside man fell 70ft (21m) to his death while trying to photograph one of England's highest waterfalls, police have said.
The body of David Heron, 58, from Gateshead, was pulled from the water at the foot of High Force waterfall in County Durham on Sunday.
Mr Heron was with his wife when he tripped and fell at the site of the waterfall at Middleton-in-Teesdale.
It is the second death at the waterfall in just over three years.
Durham Police said the incident was being treated as a "tragic accident".
A force spokesman said: "It appears Mr Heron was taking a photograph from a viewpoint when he tripped and fell 70ft into the water.
"His body was recovered by a fire and rescue crew.
"There are no suspicious circumstances and the incident appears to have been a tragic accident."
There are no barriers preventing access to the waterfall, although warning signs alert visitors to potential dangers.
The site lies within the North Pennines Area of Outstanding Natural Beauty (AONB) and is part of the Pennine Way walk.
A spokesman for Strathmore Estates, which is responsible for the area where Mr Heron died, said safety measures were constantly under review.
He said: "Our sympathies go out to this man's family.
"The Pennine Way is a public right of way and there are warning signs at entry points.
"The dangers of the site are readily apparent to those who visit, but a balance has to be struck so that we do not detract from the feature they have come to see.
"This tragedy has to be put into context with the number of safe visits that do take place."
The alarm was raised by car park staff from neighbouring Raby Castle Estate.
A spokesman said: "This is a tragic occurrence and our sympathies go out to the gentleman' s family.
"Our staff did all they could to help the emergency services."
In May 2007, 30-year-old Daniel Davies from Jarrow, South Tyneside, died while attempting to collect rocks for a new tropical fish tank.
Related Internet Links
The BBC is not responsible for the content of external sites.