Spending Review: Hull homeless charity fears for future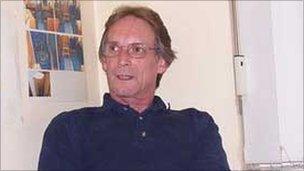 Charities funded by the public sector are bracing themselves for the government's Spending Review next week.
BBC News talks to one in Hull which relies on local authority funding and housing benefit.
Jennifer found herself homeless after leaving her family home following an argument.
The teenager sought help from the Doorstep charity in Hull, which provides housing and support for the homeless, and now has a roof over her head.
She claims £125 per week in housing benefit, which goes straight to Doorstep to cover her accommodation, and about £50 per week income support, which pays for food, transport and clothes.
"I am only just managing with £50 a week," she said.
"I would struggle without Doorstep.
"They've been fantastic. They provide emotional support, they help with budgeting and they help with education."
As the government's spending review draws closer, charities such as Doorstep, and those who rely on its services and on the benefit system, face a worrying time.
BBC-commissioned research, published last month, revealed that Hull had the highest proportion of people claiming benefits of any local authority in England, which suggests the area could feel the impact of public sector cuts more than others.
Doorstep, which has been helping the homeless in Hull for 23 years, relies on funding from the local authority and from its clients' housing benefit.
With huge local authority budget cuts likely and proposed changes to the benefit system, Peter Drinkell, Doorstep's project director, fears for the charity's future.
"I am concerned at the moment," he said.
"If Doorstep is forced out of the market because we could not carry on because of cuts from the local authority and ones from central government, where would these people be?"
Ministers have not yet spelled out exactly how benefits will change, but one proposal is to cut housing benefit by 10% for anyone who has been on Job Seekers Allowance for more than 12 months.
Mr Drinkell said this would have massive implications for Doorstep and the people it helps.
"We would have a situation where someone who is perhaps not the most employable type of person... at a time when because of government cuts unemployment would be rising, being penalised for not having a job.
"The whole thing is barking mad."
He said he had been sent a letter from his local authority asking how the charity could cope with up to 20% cut in its budget.
Mr Drinkell said: "This government has repeatedly said that they want the 'Big Society'... and have repeatedly said that the voluntary sector would be protected but obviously it's not because of the evidence we are getting."
Related Internet Links
The BBC is not responsible for the content of external sites.